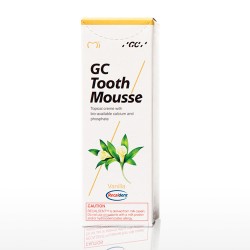 Tooth Mousse Plus – Mint
Provides extra protection for teeth by remineralising the demineralise tooth structure
Product Description
Tooth Mousse Plus – Mint
Delivers Calcium Phosphates (CPP-APP) to restore mineral balance in the oral environment.
Provides extra protection for teeth by remineralising the demineralise tooth structure.
Helps neutralize acid challenges from acidogenic bacteria in plaque and other acid sources e.g. foods and carbonated drinks.
Tastes delicious and makes teeth feel smoother and cleaner.
Restoring mineral balance in patients with low salivary levels causing dry mouth (xerostomia) or when proper oral hygiene procedures are difficult.
Restoring balance after procedures such as tooth whitening, professional cleaning, as well as reducing any sensitivity.
Research has also shown that RECALDENT (CPP-APP) can transform the visual opacity of new white spots to a more natural 'tooth-like' translucency.
* Shipping quoted at $7.50. May vary depending on weight and location of delivery