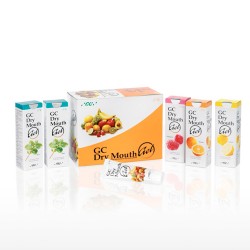 Dry Mouth Gel
GC Dry Mouth Gel provides comfort to people who may be suffering from dry mouth
Product Description
GC Dry Mouth Gel provides comfort to people who may be suffering from dry mouth, this can include experiencing difficulty eating or speaking.  Dry Mouth is a common problem often seen in individuals with impaired production of saliva, for example from medications, radiation treatment or diseases that can damage the salivary glands.
Other possible causes of dry mouth include:
• Insufficient water intake
• Dehydration from physical activity
• Mouth breathing or Smoking
• Dehydration from high intake of caffeine or alcohol (e.g., coffee, energy drinks and soft drinks)
GC Dry Mouth Gel was designed to ease the symptoms of dry mouth.  It has a neutral pH and a pleasant taste.  GC Dry Mouth Gel is sugar-free and alcohol-free and comes in a variety of delicious flavours – fruit salad, lemon, mint, and raspberry.
GC Dry Mouth Gel is a convenient pocket-size gel tube with a delicious taste.  It gives immediate relief as it is an easy to apply, clear transparent gel.
* Shipping quoted at $7.50 may vary depending on delivery location